12 May 1972
Born in İzmir, Turkey
Lives and works in İstanbul.
Transdisciplinary conceptual artist, art critic, collage worker, performance artist..
Active in surrealism, new age science fiction, erected poetry and mutant art.
Writer of "Contemporary Art Manifestos" (6:45 Publishing, May 2010).
Curator of "this is not a stuationist exhibition" (2009 November), "public enemy" (2010 January) and "distruction" (2011 May).
Personal Links:
http://suuraltioperasyonlari.blogspot.com/
http://erektesiir.blogspot.com/
http://cagdassanatmanifest.blogspot.com/
Collective Links
http://surrealisteylemturkiye.blogspot.com/
http://dgd-hafiza.blogspot.com/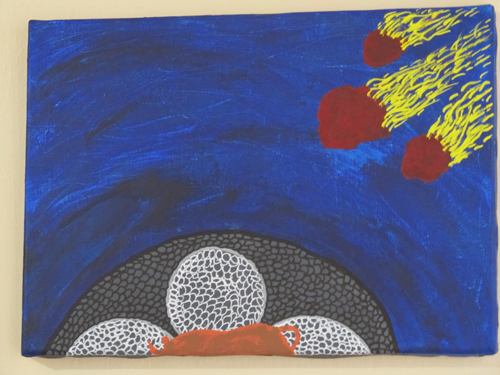 ?Parallel Universe: Kadıköy?, 25x35, 6 pieces, : Acrylic on Canvas
Selected Works
Artist's Exhibitions